AJAX Quick Checkout PRO (One Page Checkout, Fast Checkout)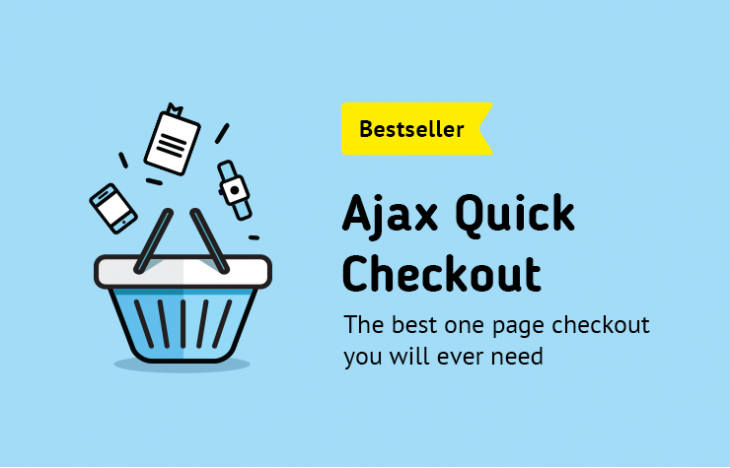 More than 3500 Sales — that's a Milestone, wouldn't you say. We are the most selling checkout solution on the opencart market. Killing the competition with the #1 solution on the market — we are proud to say we are the best.
Did you know?
67% of shopping carts are abandoned right before the transaction is completed
because of too many steps
because of too many fields
because of too many actions
We have the solution
Just one step with one button
One everythig
All the steps are brought on one page. You can shuffle the order as you like.
Truly customizable
You can organize the steps into 1, 2, 3 or even create a double column on the right.
Code is poetry
In the heart of AQC lies backbone. This allows browser rendering which is super fast and keeps the code clean and simple.
Features
Show and Hide or require the fields
Too many fields? Not a problem — hide them. You are free to require all the fields or not require them at all — its up to you.
Social logins inside
We added our social logins module inside. You get to set three Login buttons: Google+, Linkedin and Yahoo. For more social logins — you can purchase the full version.
Analytics
See the insights of how your checkout performs and how to optimize it by learning your customer behaviour and offering the best checkout experience.
AB Testing
Now you can try different settings of you checkout. Set the probability and show randomly 2 different checkouts. Get the rating of each settings and choose the one that performs the best.
Multi store
Our extensions are multistore. But with the AQC checkout you can also setup different designs and styles of the checkout for different shops. Unlimited possibilities.
Mobile friendly
It looks perfect on your mobile phone. The checkout will resize to the screen, organizing the steps nicely one after another.
We support the most popular templates
Being the most used checkout on the market, your theme will be happy that you have installed AQC. It just feels right.
Style is everything
Design sells — we know this. That's why we added the ability to extend the themes of the checkout. There are 5 themes at the moment – but there will be more. If you are a developer – feel free to create your own new theme.
Payment and shipping methods supported
We support most of the payment and shipping methods available. The data flow is identical to the opencart default checkout so you can use all the default methods with AQC. For those that are a bit tricky we offer support. We are here for you.
Full Features and Requirements
Customize the fields (drag-n-drop, hide or turn of the requirement)
Set from 1 to 3 columns for the checkout
Multi store

Multi language
Responsive (mobile ready)
Extensible (you can install other pluginsthat increase the functionality of the AQC)
Uses default language files for the front end so you can use any available opencart language translation pack
Position your checkout in any locationof your store like a module
Select default option: guest or register
Clean code with backbonejs

Social logins: Google+, LinkedIn

3 columns plus 4–th as combination of column 2 and 3
Hide options: Login, Register and Guest
Hide them all and use the default option to reduce the size of the checkout
Works with all major themes like Shoppica, Journal, Fastor, Sellya and others
Works with all popular payment methods and shipping methods
Set minimum order amount
Powerful debug mode
Hide or display any step in the checkout like Shipping methods or cart
Choose from a list of different designs for the checkout
Add custom styles directly from admin
Save and stay option
Image popup on the name of the product
Error input highlight
Login popup view