Blog Module PRO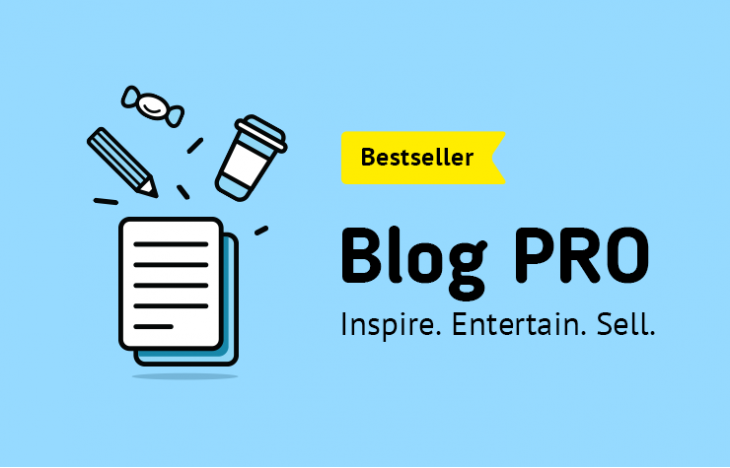 The Blog module you have all been waiting for. Feature rich, native opencart blog engine that was specifically developed to seamlessly integrate into your opencart shop and improve your customer relations.
Start blogging with the best extension on the market
Companies that blog have 55% more website visitors
Functionality
Posts, Categories, Authors, Comments, Modules, Export/import, flexibly admin.
Design
6 awesome designs with bootstrap out of the box plus many more to come.
Code
Rich snippets for Google, handlebars and partials, DRY code.
Unique features
Feature rich admin panel
You can enable practically any feature from the admin panel: comments, images in comments, guest commenting, images in posts, sub categories on category page, rating, image sizes and much more.
Social login integrated
Increase customer trust with social login integration. Now you can show customers profile images from their social network pages next to their reviews.
Flexible layout
With our unique option you can set basically any kind of layout for your posts on category and author pages. Say you want the first post to be the biggest and then have two smaller posts on one row — now you can. And it's very easy by the way.
Beautiful Design
We know how much design is important for great sales. Customer will enjoy reading your blog with any of our 6 beautiful designs or you can order a custom design from us via our support sytem.
Mobile friendly
It's a standard in Dreamvention to make every product mobile friendly so that you won't have to worry about your customer on the go. They can enjoy all the functionality available on the desktop version.
Advantages
With SEO in mind
SEO is sales — we know that. That's why we took the time to integrate all the necessary code like breadcrumbs, rich snippets, tags, metas and more to let you focus on the content and your customers.
Excel Export/Import
You administrate your blog in excel with our export/import option. Download and edit in excel and then upload. You can migrate using this option as well.
Powerful commenting
Let your readers engage with your content. Leave reviews with images and stars, reply to the reviews as the author or the administrator.
Additional modules
Social login lite
Connect people via social networks so that your blog comments become personnel
Search
Place this module in the search result page and you will also display posts that can be searched as products
Category
A module to show the category structure and help readers navigate
Dates
Display your posts in a list by month
Latest posts
A module to show your most resent posts
Tags
Show a cloud of tags – every blog needs it
Related posts
Display on a post page other related posts
Related products
Display on the post page other related products Same way you can display related posts to products
Most viewed posts
Your most popular posts, can now be defined but post categories as well
Install with shopunity
Simplicity
Install, update and delete any extension with a click of a button and version control. Not ftp required.
Transparency
All modules have a json-passport file, that keeps trek of all changes and important information, like version, changelog and dependencies.
Reusability
Reuse tested code from other developers for rapid development. All extensions follow rules that will keep your opencart code clean.
Full Features and Requirements
Posts, Categories, Comments, Authors
Social login integration
Multi store
Multi language
Responsive (mobile ready)
Rich settings for posts, post thumbs, categories, comments, comment thumbs and authors
SEO friendly
Export/import/li>
Twitter Boostrap support/li>
Rating/li>
6 designs included/li>
1 year of premium support/li>
Handlebars support/li>
Vqmod required/li>
Navigate between posts using next and previous post/li>